Have you ever wanted to see (in real-time) how many times your agents are searching your programmes in their course finder? If your agents are including your school in their student proposals? In which markets are you stronger in terms of quotations and bookings? How is your school information being distributed? The list goes on.

If you've answered "yes" to any of these questions you can't miss Edvisor's new School Dashboard that provides schools with information and insight before, during and after an agent enrolls a student into your school, which lets you make data-driven decisions like never before.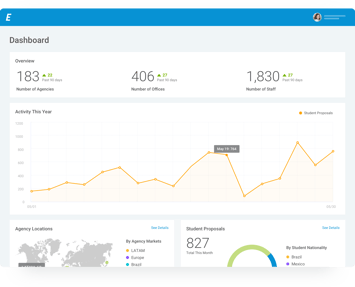 With the new School Dashboard, the data you see is taken directly from the platform, showing you your performance based on the behaviour of your partner agencies with your school. With more and more industry resources going digital, the school dashboard is another tool in the belt.
Using the dashboard, you can see your school's conversion rates, the average number of weeks quoted, find information on where you are most or least quoted, and use this information to create strategic business decisions like different promotions depending on the activity of each market.
With that information, you can predict your future bookings and revenue. You can check in on what programs are quoted in what regions and deduce which ones aren't resonating in the various markets.
SPECIFIC FEATURES
With the need to be where your clients or agents are, the dashboard allows schools to do just that. They can see where they are missing the mark, where they're on target and where they need to adjust to serve the industry.
For example, a school can use the regions of the connected agencies map to find where they are most or least quoted. Then they can double down (add more agencies) from regions they are successful in or in work to build connections in the regions they aren't. This provides the data for a strategic business decision on where to move in which markets.
Because schools may have different price options for different markets, using the dashboard, they can stay competitive and use the data in the panel, create promotions and create a sales push.
The schools dashboard is only available in the Edvisor's PRO plan.
Wow, that's a lot to take in! To learn more about Edvisor for Schools, click here.
Want to chat to see how the dashboard works? Follow this link to set up meeting.