Say hello to March's coming onshore renewals in Australia in style! This can be a busy period, so it is important to prepare ahead of time in the previous months. Read this article for great tips to help ensure your students renew their visas and even bring you more referral business!
TIP 01 - Have your Edvisor toolkit ready!
Take advantage of the best all-in-one tool to find new courses for your students, as well as accommodation and the most appropriate OSCH according to the student's course or program. Plus, access the best agreements with the largest insurance companies such as Allianz, AHM, Bupa or Medibank to help you generate extra income through commissions.
Prepare the list of potential students who will renew their visas in March
One way to make it easier to create this list is to generate a "student visa expiring" report (if the required information about the student's visa expiration date has been added to the system).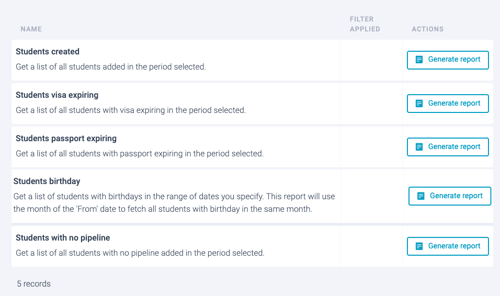 In the event that you use the EFA platform, it is possible to create a list of onshore students in different ways.
If you created an exclusive pipeline with students at that destination

If you created a follow-up task for a time before the visa expires for each student
Micro-tip: If you haven't performed these actions, you can get in touch with your account manager to start preparing your list of onshore students for next year!
Clear communication
Clearly communicate important information to students, such as deadlines, required documents, and the steps involved in the renewal process. Giving clear information in advance can save you hours and hours of answering questions, and saving time can be one of the most valuable things during busy peak seasons.
A way to streamline access to information for your students can be to create an FAQ landing page, pdf, or even post videos providing information and answering common questions on your social media.
Increase staffing
Make sure you have enough staff available to handle the influx of students during the busy period. This can include hiring temporary staff or having dedicated staff allocated for this.
Insurance landing page

The Student Insurance Finder landing page is available for you anytime!

With it, you or the student can choose the preferred insurance by comparing prices and conditions among the most popular options on the market. This option is bound to save you a lot of time, and offer the best insurance available that the student might need.
Insurance for groups
Need to save time booking insurance for large groups? Edvisor is here to help! With the Group Booking Form, you will have all your students' policies ready in just 24-48 hours!
If you need help, you can count on your Account Manager, email us at Insurance Operations, or contact us through the live chat option directly on the platform.
TIP 02 - Get in touch with your students
The first call
Keeping in touch is important! We all like to feel cared for and be called on to talk about our life. Students may want to discuss their experiences, especially when they are exceptional or exciting, such as living in Australia for a while! Making a call to your students at the beginning of the year can be a great way to gather information and understand their future goals and needs!
The second call
Using the data already in the Edvisor CRM and the added information from the student's declaration of intent from the first call - the second call opens a lot of opportunity to offer students products or services that complement their goals and helps them take the next steps.
For instance, if they finish a B2 English course, offer them the option of doing the next C1 course and all the advantages of continuing to study English in Australia.
Is the language barrier no longer a problem for your student? They may be interested in furthering their professional options through a marketing or business course.
Micro-tip: Prepare success stories from other students who have gone through a similar journey to help them decide their next steps!
TIP 03 - Plan ambassador
This tip is quite worth it and could be a big "win-win" situation. Give your students a way to benefit from a referral system, while your business benefits from the influx of onshore visa renewals.
To start a referral system, set up a page on your website, create a form that your students can fill out when they refer their friends or even a unique referral code that students can share.
Once you have the referral system set up, think of creative ways to reward the students for referrals - which can be anything from discounts to free merchandise, special discounts to the next course, or even monetary rewards.
A referral system is a great way to increase the number of onshore visa renewals while at the same time strengthening the relationship between you and your clients.
TIP 04 - Organize an exciting activity in January for your students
What student does not like a group activity where they share experiences with other students while having fun?
There are countless activities to choose from! Depending on the budget and the group size, a venue could be a beach, park, or rented space. Here are some ideas:
Party!
Organise activities such as beach cricket, volleyball, and football for the students to enjoy. Consider a BBQ menu with local seafood and meats and even hire a band or a DJ for entertainment.
Excursion or trip
Choose a nice destination. Consider an age-appropriate excursion to one of Australia's cities, national parks, or beaches. And include educational activities such as a trip to the Great Barrier Reef, a tour of a wildlife sanctuary, or a visit to a museum. By just planning the itinerary, activities, and meals for a successful excursion - your students will talk about your agency for years!
Ready to get started? Here's a recap!
We hope to have left you with a well-thought-out plan through simple but smart ingredients. Here's a quick recap:
Make full use of Edvisor's resources

Offer the most suitable options for your students

Maximize referrals and relationships through an ambassador program

Make your business stand out through an exciting party or excursion for your clients
This guide will help get your students to renew their onshore visas with your agency, and perhaps even generate business growth from students' friends becoming clients too!