It's hard to believe that we're about to start the last quarter of 2023. Where has the time gone? The last quarter is a great opportunity to review what you've accomplished so far and set goals for the end of the year. Got any big plans? We certainly do!

Over the past month, our main focus has been on improving our insurance tools:
Let's dive deep into each of these exciting updates!
Adding insurance to your quotes just got easier!
You can now add any insurance policy available on Edvisor directly to your quotes.

Forget about leaving the quotes section or messing with add-ons; you can do it right while you're creating the quotation.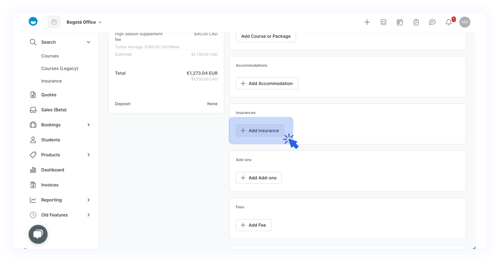 This update is a real game-changer, especially if you like bundling programs and insurance. Plus, enjoy the convenience of instant price updates—it's a breath of fresh air!

Here's how to do it! ➡
⚠️ Note: We will be removing the option to add insurance using add-ons. Please start adding insurance directly from the quotes section and update your recent quotations to avoid losing anything important.
Stay organized with the new 'Mange Insurance Providers' section.
You can now handle your insurance agreements like a pro! Just go to your Edvisor account, click 'Manage Providers' on the top bar, and then choose 'Manage Insurance Providers.'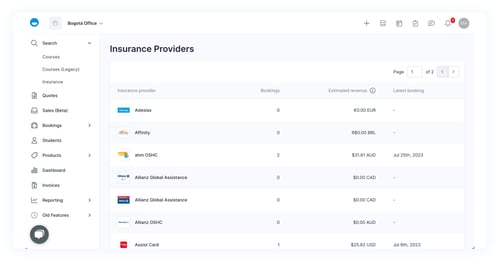 From there, you can see all your connected insurance providers, their products, your commission, and even change the sales price!
Learn everything about it here ➡
Boost your profit margins with our new insurance markup feature.
Want a smarter way to increase your profits on insurance sales? Meet our new Markup Feature 🤑 Just head to your insurance providers dashboard, find the insurance product you want to adjust, and click on "Markup" to set your price boost.

Instantly see your updated sales price and profit! It's that easy!
Never miss an update with the new email notifications
We've got more good news! You'll now receive instant notifications whenever a new insurance booking is made, cancelled, when an amendment is being processed, when a policy is uploaded, or if extra payment is needed.

You'll no longer need to wait for our Insurance Ops team to email you, you'll get automatically notified in real-time!

*Important: Students won't receive these notifications.
We are introducing new processing fees
As of October 1, 2023, students will be charged a 3% processing fee when they complete the purchase of their insurance through Student Insurance Finder.

This fee will automatically be charged when a student makes a purchase, it will be detailed on the Checkout page.

This it helps us keep Student Insurance Finder a free service for Edvisor users.
Other Improvements
If you're booking insurance for a new student who isn't in your Edvisor database yet, a new profile will be created for them, and the insurance booking will be linked to that profile automatically, no need to do any unnecessary steps anymore!



If you're booking insurance for a student that is already in your Edvisor account, simply select his/her name, and all their information will be automatically filled in.