With the industry changing rapidly, we know the importance of connecting online with schools and agencies. Because of this new (technological) way to connect, Edvisor has launched this new revolutionary tool.
The School Discovery Tool
Look no further - the essential school search is here! 🔎

Schools can be discovered by thousands of agents with a simple search
Being available in the tool that the agencies use in their day to day operations is crucial if you don't want to be left behind. The school discovery tool has become a new promotional channel for schools.

As a school, this tool lets you grow and empower your agency network just by being visible on the agencies platform. You have the power to accept the connection requests you receive from agencies (like Facebook or other platforms) and decide who you want and don't want to work with.


Agencies can find schools from all over the world from the comfort of their homes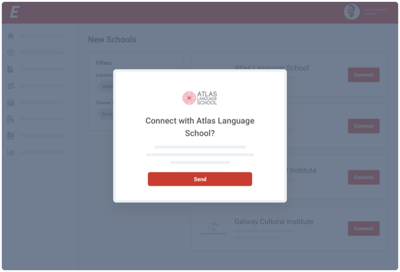 For agents, the time-consuming task of searching for schools and making new connections to expand your portfolio is now simpler, with the discovery tool, you can explore by by location, type of education or school name and quickly turn up multiple options .

Then after you find a school you want to connect with, you send the connection request. Expanding your portfolio has never been easier!
Quality connections in the online world
The School Discovery Tool is a powerful option in light of changing day-to-day operations. Because there is so much uncertainty about when things will return to normal, but one thing's clear, the online has come to stay and it's imperative that agencies and schools adapt to stay relevant and take advantage of the useful tools available.
What hasn't changed is the importance of establishing quality connections with those you work with. In other words, delivery high-calibre customer service can make or break. If you don't provide a good experience for those you work with across the industry it can factor into whether people return for the service, recommend you to others and speak to your reputation.
In the case of international education, forming strong relationships can result in loyal agents that actually include your quotations and try to promote and sell your school, whereas poor relationships can lead to the opposite.

The School Discovery Tool is an exclusive feature for Edvisor agents and schools. To learn more schedule a demo with our agencies team or schools team.
---

"Look no further, Edvisor's School Discovery Feature is a powerful tool for agents looking to expand their school partner portfolio. The search, comprised of a school name, a location or type of study, is easy to use. Then with the results, we can actively connect with new schools. It's the only tool we use to find new schools"

Osman Yilmaz - Managing director at Aktif Education Abroad