With this month's update, we've added

some new features from simple filters like viewing your "last recent searches", to more complex features for processing payments.
Oh! And last but not least, for

OSHC Couple and Family bookings

you can now add family members' information directly in one form.
We hope that all these small changes will make a big difference for you!

😎
Advanced Filtering for Students
Did you know you can save time searching for specific students? When searching for a student, if you use a student name or pipeline-specific parameters, you can benefit from the additional filtering functionality when searching through pipelines.
Just like all other filters, filtering by more than one custom field will show results that only match the filter criteria selected.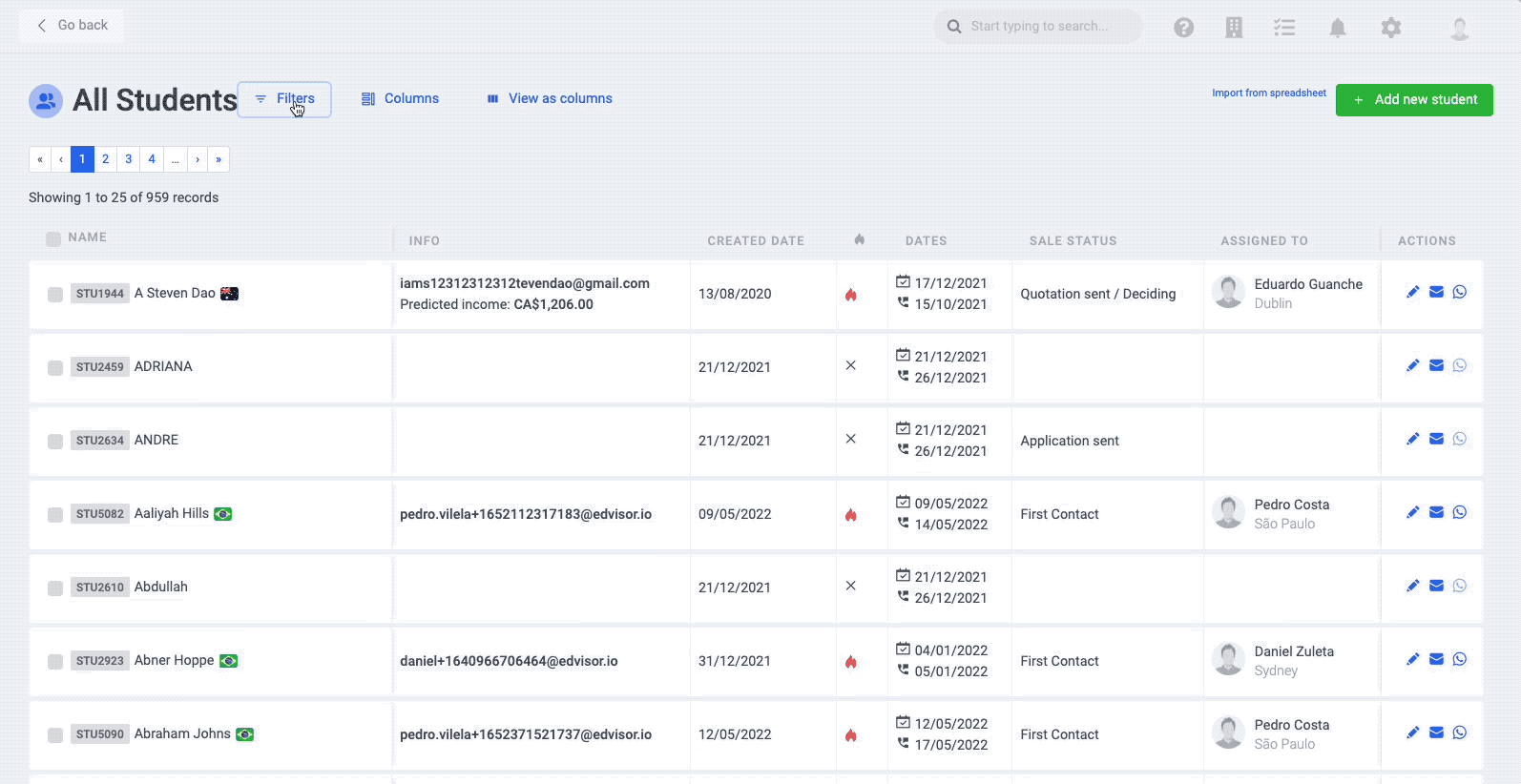 Select All Students
Need to update details for a large number of students within a pipeline at once?
You can now use the "select all" checkbox. If you need to clear your selection, just click the checkbox again, or clear all selected students by pressing "Clear choices" on the top right of the screen under the "Edit selected students" button.
You can also unselect any individual students on a page by clicking the checkbox beside their ID. You can combine this feature with the new Advanced Filtering for Students feature for even faster editing functionality.
Display and Use Recent Searches

Did you know? You can

see up to your 5 most recent searches

on the course search page! If you're performing the same searches over and over again, you can now

see your most recent searches and quickly select them

. You'll be able to see student information (nationality, age, visa type or current location), and school information (locations, course type, start date or duration).
Manage your Outstanding Balance from a Payment
When a payment is added to an account, if it is not allocated in full, whether manually set, or because it pays off a balance and leaves a remainder, you can now manage that outstanding amount.
How it works:
When a student makes a payment on the platform, that payment is recorded and "allocated" to the item being purchased. After the payment is made if there is a remainder left on your account you can now use it toward other purchases.
Add Dependent Information in Couple and Family Bookings
Enter Couple and Dependents Information for OSHC Couple and Family bookings directly in one Edvisor Recruit form.
We have made it easy for you to send us family bookings with the full information of your clients' companions, relatives, or dependents in one form. This means we can send confirmation policies for Couples and Families faster without any back and forth.
__________________
What are your thoughts on the new add-ons? Do not hesitate to get in touch with your Account Manager or our Customer Support Team if you have any more questions about these new features.
Thanks for reading. We'll see you with more product updates next month 👋