Happy New Year! We hope you're off to a great start.
In this month's update, we want to share some of the latest updates to our most popular insurance product, Student Insurance Finder.
What's new on Student Insurance Finder?

See the new and improved user interface plus the added features that make the insurance landing page easier to use and more enjoyable for your students.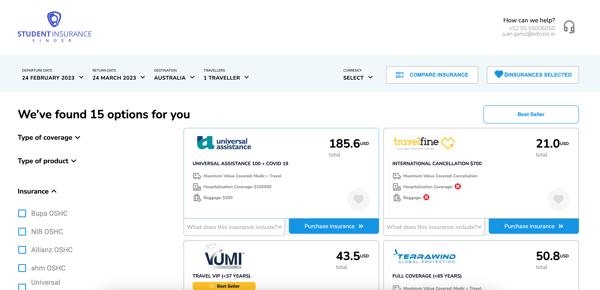 The search got a brand new makeover! Plus… new filters!

One of the main changes you'll notice is a cleaner and more intuitive search results page, with additional filters in a left-side column to help students narrow down their search and find exactly what they need.

Additionally, the search bar now only includes destinations that your company works with. For example, if you only work with Australia, students will only have the option to select that country in the search.

Cross-sell by using add-ons

Increase your average ticket using cross-selling techniques with the new add-ons section.

At the end of the purchase process, just before the final payment, the student will receive the option to add extra items complementary to the insurance they have chosen - if available. For example, they could add extra cancellation insurance.

It works the same way as when a customer is buying a flight and the airline offers alternative products or services during the purchase process. This is definitely a super useful strategy that can help an agency or school increase revenue.


Get more information on your insurance bookings by adding custom reference sources

Custom reference sources help track where the insurance bookings come from, the effectiveness of marketing efforts, and even identify new opportunities!

Other small updates
Students can view insurance prices in multiple currencies and switch between them if they wish.


You can specify two different contact emails. The first will be displayed on the landing page for student inquiries, and the second will receive all purchase confirmations. The same email address can be used for both functions, or the user now has the option and can choose to use different ones.


We are working to streamline communication between the user, student, and Edvisor. From now on, when a student makes a purchase, they will receive all necessary documentation directly (a copy will also be sent to the user or agent, but they will no longer need to forward everything to the student manually).


We hope these updates improve the overall user experience with Student Insurance Finder and help provide a seamless experience for agencies and students. Keep an eye open for future updates and improvements.

If you don't have a Student Insurance Finder landing page and want to get started, or if you'd like help using any of these new features, please contact your Account Manager. They will be happy to help you get set up.