Each month, we like to highlight all the new features we're adding to Edvisor Recruit to make the platform more intuitive, cleaner, and more powerful.
Spring brings a lot of new surprises

😱
Read on to get the scoop!



🤓 Learn about new product updates real-time
If you are reading this, it means that you like this blog post series and we couldn't be more grateful about that, but... wouldn't it be great to learn about each new feature release when we launch it, right?
You can now do that without leaving Edvisor Recruit. Just look at the red indicator in your home screen in your platform, that means there are new features you haven't read about!
Learn more about new product updates real-time in our Help Center
📈

New Currency Converter tool
We've added a new currency converter tool for those times when you just want to check the conversion rate. Now you can check it directly! No need to create quotes to find it out!
If your company applies spread rates, they will be automatically considered when converting currencies.

If you manage your own Foreign Exchange (FX), the rates you set will be used.

You can choose the currencies you see in the list.
You will find this feature available in the Dashboard, right now. If you want to learn more about how to manage FX in Edvisor Recruit, check the link at the bottom.
Learn more about FX Management in our Help Center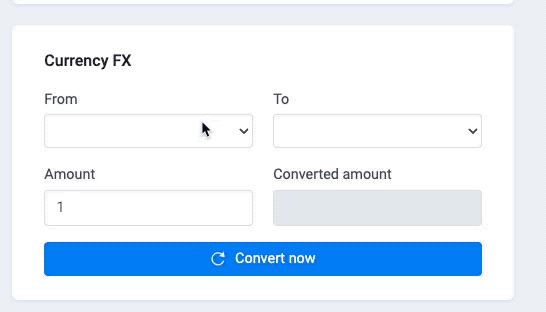 🔣 Add spread rates as %
Spread rates are used to change the currency exchange rate (FX), usually adding a few cents on top of the official exchange rate that Edvisor fetches automatically for you.
There are many uses for that (including helping the student to anticipate exchange rate fluctuations).
Now you can set exchange rates as a percentage. Before only as a total amount (e.g. 0.05 cents).
Learn more about Spread Rates in our Help Center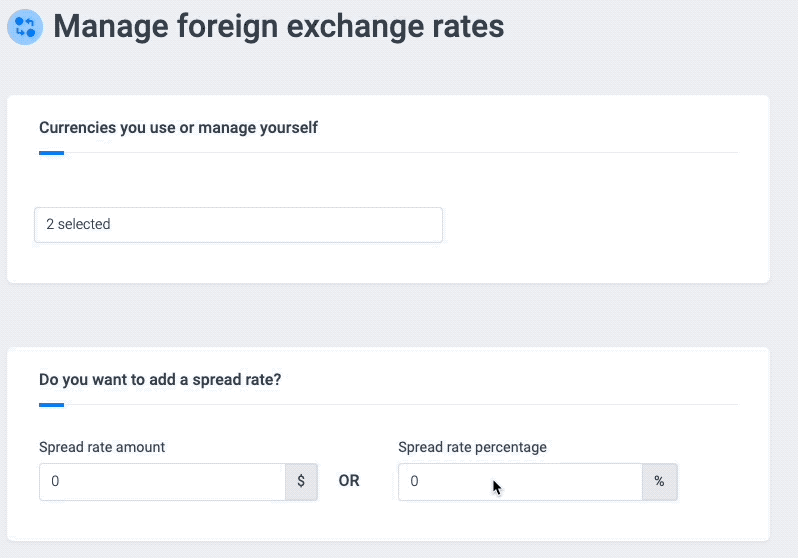 💳

Pick your favorite credit cards to buy insurance
If you have multiple offices this update is for you!
Now you have the option to buy insurance with more than one credit card with the new checkout modal, so you can use the company's card or enter the details of a different card.
This is just the first step! In the near future we'll add the ability to save and manage those cards and it will be easier to identify the amount that will be charged.
🤑 Flexible payment plans creation
Payment plans are widely popular. Sometimes a course is paid installments, sometimes the student buy multiple services and pay a set of installments for all courses and services. Doesn't matter in what form, payment plans (installment plan) is just part of International Education.
In our brand new Payment Plans feature, you will be able to:
Create Payment Plan templates and use them in quotes.

Add interest rates and discounts to Payment Plans.

Have multiple Payment Plans per option in the quote.

Transform Payment Plans from the quote in Sale.

Completely customize your Payment Plan templates when creating a quote.
Nice one, isn't it?
📰Creating quotes without a course
We're happy to announce that you can now create and send a quote to your students without including a course through Edvisor Recruit!
Here's how it works:
Create from an existing template, or by adding insurance to a new quote through the Edvisor Insurance Marketplace
Make any additional changes you would like to the quote, such as adding additional services, or adjusting exchange rates, and click to add a student to the quote.

Save and send the quote, selecting a student, or adding a new student to the system to send it.
You can also create sales orders, invoices, and bookings for quotes without courses or even, save quotes without a course as templates so you can quickly pull them up again for other students.
✨ 3 little features that will make your job easier
Auto-load more results
You will no longer have to press "Load more" in your course search after every 25 search results. We'll do it for you! The search results page will now continue to load in more results for you as you browse through.
Sort by price
You can now save time searching for the perfect program for your student by sorting your results by price. In the dropdown to select your sorting options, you'll now see two new options "Price Ascending" and "Price Descending"
Add more details when selecting a course
Here's a feature that will help you save time and avoid missing crucial steps in creating your quotes! We've created a new section below the student selection where you can specify all the details you can edit after creating the quote: Duration, Start date, Holiday end date, and Comments.
🎨
More design improvements
📋 Document ID, address, and secondary contact for insurance bookings > We improved the layout to collect the information and make the Document ID label dynamic.
👩‍🎓

Student Search Improvements >

Tired of searching for students/leads and then not showing up?
Here's what improved:
The search now is more relevant. Sometimes students were missing and sometimes the system would have "found" but it wouldn't display, because it was too low in the list.
The search now is faster! Sometimes it would take a couple seconds to return results, now it should be milliseconds, in the future it should be even faster.
Better typo tolerance. Are you typing 'rapael' instead of 'raphael'? It will still find your lead.
More intelligent.The search results will be improved, the more the more you use them.
More than 6 results! If necessary the search will show up to 20 results 😀
Wow! these are indeed improvements!
__________________
That's it for this one! Do not hesitate to get in touch with your account manager or our customer support team if you have any further questions about these new functionalities!
As always, thanks for reading along. We'll see you with more product updates next month 👋