More and more institutions decide to rely on Edvisor to distribute their programs, promotions, and marketing media in real-time to their agency network. Read on to find out who has joined us this last month!
🎉 New Educators on Edvisor
| | |
| --- | --- |
| | Navitas University Pathways |
🎓Higher Education
📍Worldwide 🌎
🔵 Edvisor ID:
Navitas North America - Edvisor ID:

navitasnorthamerica

Navitas Europe & UK - Edvisor ID:

navitaseurope

Navitas Australia - Edvisor ID:

navitasaustralia
Navitas leads students to successfully enter the overseas university and degree of their choice. As one of the world's leading global education providers, Navitas has an international network of more than 30 university partnerships in locations across the globe: the UK, Germany, the Netherlands, the USA, Canada, Australia, New Zealand, and Singapore.

They pride themselves on their innovative university partnership model, outstanding employability programs, and commitment to individually tailored study experiences that boost students to academic success.
You can now connect with Navitas using the edvisor IDs listed above, once they accept your connection request, you will have access to all the programs from all their different partners in that specific market: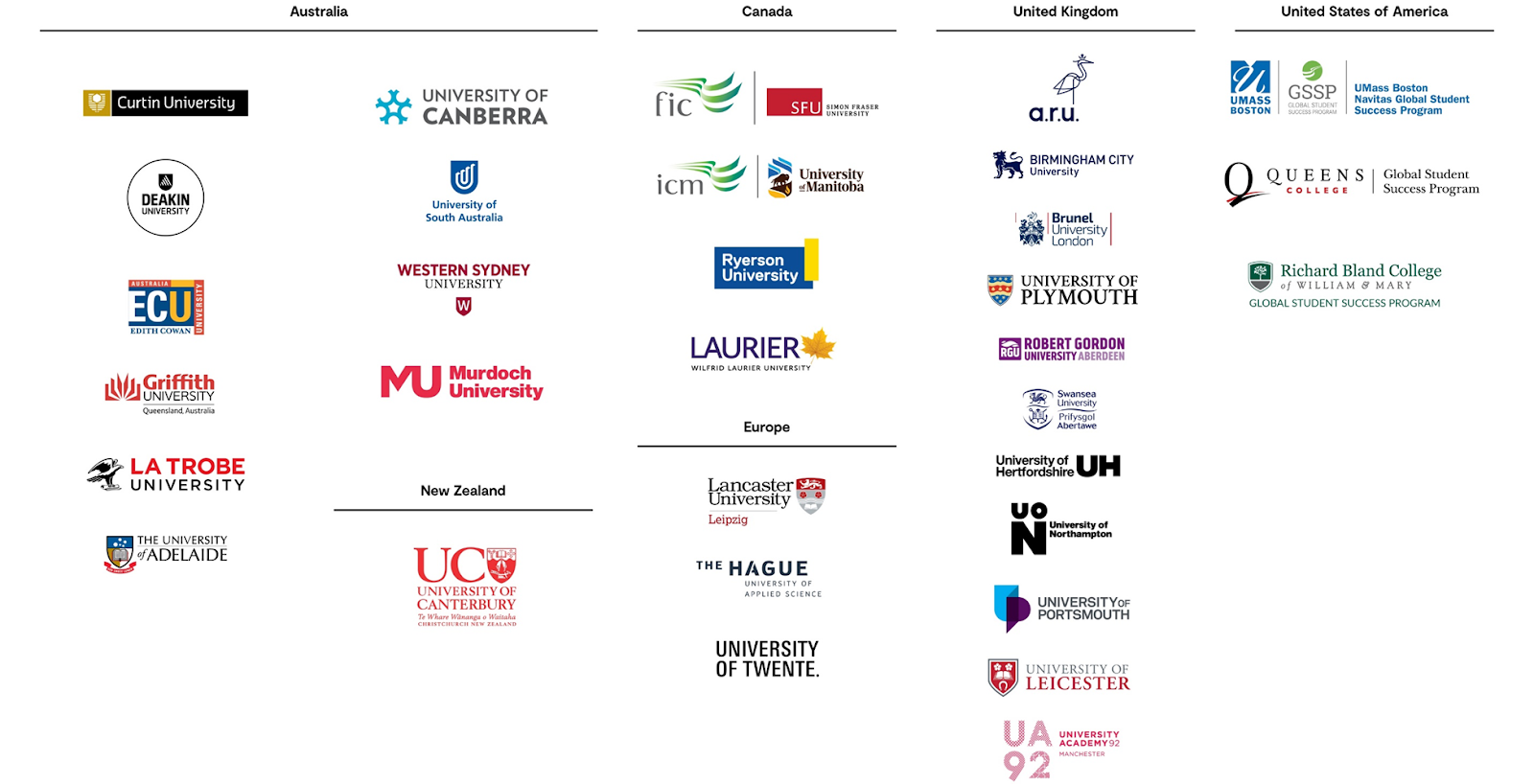 ---
🎓 College / Vocational
📍Sydney, Australia 🇦🇺
🔵 Edvisor ID: acbi
The Australian College of Business Intelligence aims to provide students with increased skills to enable them to enter and compete in the Australian marketplace. Their training offerings are built according to the highest standards as set by the Australian Government.

Their main goal? To develop professionals who are at the cutting edge of their field.

Run to your Edvisor account and send them a connection request to access all their courses and real-time pricing.
| | |
| --- | --- |
| | Cambridge Academy of English |
🎓 Language
📍 United Kingdom 🇬🇧
🔵 Edvisor ID: novainstitute
Founded in 1975, CAE

The Cambridge Academy of English (CAE) was founded in 1975 and is located on the outskirts of the world-renowned university city of Cambridge. They've welcomed more than 25,000 people from 75 different countries to study in their friendly hard-working environment.

The Girton campus is now closed, so they now focus on their summer residential courses and online courses.

---
🎓 Boarding School
📍 Manchester, United Kingdom 🇬🇧
🔵 Edvisor ID: britanniaschool
BEA is an independent English school in Manchester, United Kingdom. They offer small classes with a maximum of 10 students, native English teachers, and a friendly environment.
They always take a communicative approach which will help your students to say and understand precisely what they need to. BEA offers highly-personalized student support and welfare so that they will be able to adapt to living and studying in Manchester, achieve their goals whilst having the opportunity to join a range of social activities such as conversation club, sports, weekend trips, dance classes, and more!
---
| | |
| --- | --- |
| | Kensington English Academy |
🎓 Language | English
📍London, United Kingdom 🇬🇧
🔵 Edvisor ID: kensingtonacademy
Kensington English Academy (KAE) has been teaching English since 1978. They are smaller than many of their competitors and this allows them to create an environment where everyone can get to know each other. They believe that this makes for a more focused and enjoyable learning experience.

Whether it's a group course or a private lesson, their tutors will take the time to understand the students and their goals. They deliberately keep our class sizes small, so that all of their students can receive individual attention. The average class size is 10 and the maximum class size is 15.

KAE is accredited by the British Council for the teaching of English in the UK and they are a member of English UK. This means they are continually assessed and have to meet very high standards.

The University of Windsor is a comprehensive, student-focused university, with more than 16,000 students enrolled in a broad range of undergraduate and graduate programs including; Law, Business, Engineering, Science, Education, Nursing, Human Kinetics, Social Work, Faculty of Art, Humanities, and Social Sciences.
They are located next to North America's busiest international border crossing and look out on one of Canada's most beautiful waterfronts on the Detroit River. Windsor is also Canada's southernmost city and has some of the country's best weather.
Watch this interview to learn more about them:



And don't forget to send them a connection request using their Edvisor ID: uwindsor
🔜 Coming soon...
You can also start connecting with all these other educators that are now building their profiles on Edvisor:
University of Wisconsin-Madison Visiting International Student Program

Waukesha Country Technical College

UW Milwaukee

Madison College

Marquette University

St Norbert College

Etoile Institute de Langue

Glasgow School of English

St Clare's Oxford

Alpha.B Institute Linguistique