It's no secret that technology has the ability to increase and maximize work efficiency. But having too many tools can be almost as detrimental to performance as not having the right tools.
Having a simplified toolkit is especially important when it comes to working with your providers, whether you have a big network or you only work with a selected group of institutions. The good news is that with Edvisor you can now manage all your providers in one single place!

One of the very first things you have to do when setting up your profile on Edvisor Recruit is to build your portfolio of programs and services.


There are 2 ways an agency can add their partner institutions to their portfolio:
A) Connect with them through the Discovery Tool
We have around 500 educators available to connect on Edvisor. All these institutions upload their information and keep it updated so that agencies can access their prices, promotions, and marketing materials in real-time.
If the institutions you work with are available on Edvisor, you just have to connect to access all their information.
B) Create your custom providers
You might also work with other educational providers that are not available on Edvisor yet.
In these cases we strongly recommend that you talk to your partners and tell them that you would like to see them on Edvisor, our team can offer them a demo and free trial to explore how our technology can help distribute their information.
But, what happens in the meantime? Should you stop working with these partners? Do you need multiple processes to work with each of your institutions?
Fortunately, the answer is "no".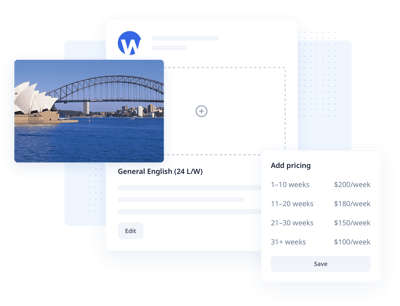 Say hi to the new Custom Providers tool!
We've recently launched a new functionality on Edvisor Recruit that allows you to create and manage your own custom providers so you can search, quote, and book their programs the same way you do with the ones you are connected to. All from one single place!
With this new feature, you can set custom prices, manage campus information, upload photos, and even include your partnership details!
Once you publish your 'Custom Provider' it will appear in your course search and in the E-Commerce plugin on your website.
Can I use 'Custom Providers' to sell my own programs?
Of course!
If you are an education provider or an education agency that also commercializes your own courses, groups, or summer camps, you will love this tool! Click here to create your first custom provider here.
We are so excited to see how our users can now simplify their processes and be more efficient by centralizing their whole operation on Edvisor! If you don't have your account on Edvisor Recruit yet, you can try it for free or schedule a demo with our team.