We are delighted to announce our partnership with ICEF, the global market leaders in business-to-business networking events and services for the international education sector. Read on to find out what this partnership is all about and how it will help agencies and educators strengthen their relationships and work together more efficiently.
ICEF is the place where agencies and educators meet. Edvisor is where they work together on a daily basis.
This is the shared vision behind this partnership. Edvisor is the best place to nurture relationships with your partners on a day-to-day basis, but we know that face-to-face events like those provided by ICEF represent important milestones to kickstart, maintain and develop successful business relationships.
One of the most exciting things about the ICEF-Edvisor partnership is that this shared vision is now demonstrated in the respective platforms of each company, where you can now recognize companies that work with Edvisor and ICEF respectively.
How can you identify Edvisor users at an ICEF event?
We know that many of our users prioritize partnerships with agencies and institutions that are also on Edvisor because of how easy our technology makes sharing information and working together.
So agencies and educators participating in an ICEF event can now recognize companies that have active profiles on Edvisor to aid in connecting before, during, or after the event.
You just need to find the Edvisor icon in Marcom next to the attendee's name or in the top bar of their personal profile.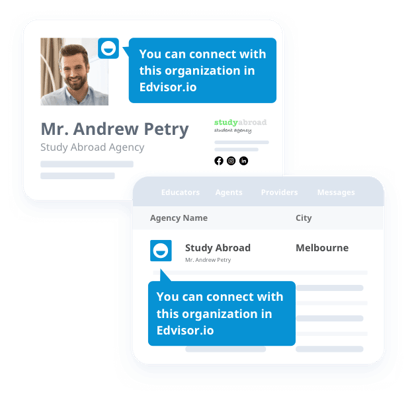 "After meeting new partners at ICEF events, the follow up is crucial. Schools and agents using Edvisor can exchange key information quickly and start really working together immediately. This is a great productivity gain and saves them a lot of time"
Markus Badde (CEO of ICEF)
How can you identify partners who have participated in ICEF events in Edvisor?

IAS (ICEF Agency Status) is recognized worldwide as an advantage for agencies who have been successfully vetted for and participated in ICEF events. These agencies are now recognized in Edvisor in their company profile as well as the Discovery and Partner Management features.

But that's not all! Educators that have attended an ICEF event in the last three years will also be recognized with a badge in the Edvisor platforms. This is designed to allow current and potential partners to recognize mutual participation in ICEF events.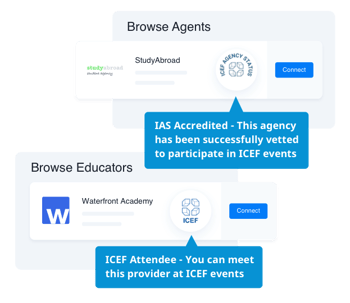 "Edvisor and ICEF share the same goal: to support, nourish and create successful partnerships in the international education industry. For this reason, we're excited to offer Edvisor's technology to support the partnerships of agencies and educators meeting at ICEF events"
Gregorio Nieto (CSO of Edvisor)
The partnership will officially kick off at ICEF Virtual Latin America, which will take place on 28-30th September with over 228 agencies, 107 educators, and 21 service providers (including Edvisor) conducting virtual meetings.


If you are attending one of the upcoming ICEF events and want to join Edvisor to connect and begin working together immediately with your partners,

sign up here and start exploring a new way to sell education and recruit students together.