Yes, the rumours are true, EducationLink is now Edvisor!
This is an exciting day for us! We can finally announce that we have acquired EducationLink, a software provider for Education agencies with a strong presence in the ANZA market.
Since our merger with Book&Learn in February 2020, Edvisor officially became the world's largest agency and school network with agreements spanning across fifty countries and including 80% of agencies in Latin America and Brazil.

With this acquisition we've expanded our agency network by 500 agent users in Australia! Edvisor's expansion keeps moving forward and the acquisition of EducationLink is just the beginning of our plan to become the tech solution connecting all industry players in the ANZA market.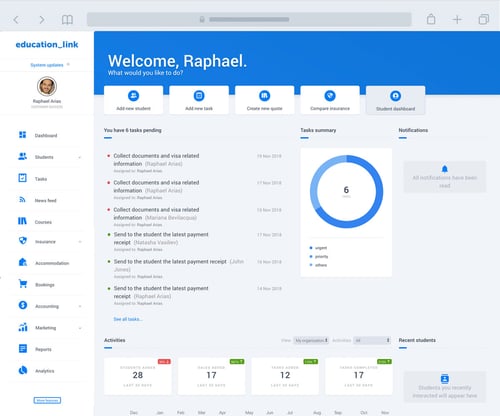 What does this mean for EducationLink users?
They will be able to take full advantage of Edvisor's school network which includes 1,500 schools in 30 countries. Through a product integration, they will be able to search, quote, and submit applications directly to Edvisor's schools whilst continuing to use their EducationLink software.
What does this mean for Edvisor school users?
This acquisition is great news for our schools that will see a significant boost in the agencies they are able to distribute their products and services and sell through. This will come as especially welcome news to Edvisor schools in Australia, which are currently limited to onshore recruitment during the pandemic.
What does this mean for Edvisor agency users?
Edvisor is taking important steps to become a more complete software solution for the ANZA market. With the acquisition of EducationLink, we are working to bring more schools, service providers and platform functions to Edvisor to meet the specific needs of agencies recruiting in ANZA. Keep your eyes open for more exciting news coming soon!
---

We're so excited about taking this step towards our goal of driving the international education industry forward through technology and we are confident that this acquisition will help both schools and agents connect with new partners, optimize their resources and be more efficient during these turbulent times.


Keep your eyes open for more exciting news coming soon!