Embrace some of Atlantic Canada's vibrant communities - filled with exciting culture and beautiful landscapes - in Cape Breton, Nova Scotia. Committed to innovation, sustainability, and the future of the Island, CBU offers a comprehensive set of programs on the first energy self-sufficient campus in North America while offering international students the vital support need to succeed.
Fast Facts
Public University
Cape Breton, Nova Scotia, Canada
Study Areas
Arts, Social Sciences, and Culture
Business
Education
Engineering and Technology
Health and Well Being
Sciences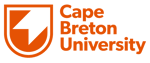 About Cape Breton University
Surrounded by pristine natural landscape, vibrant culture, and welcoming communities, Cape Breton University (CBU) is home to nearly 5,500 students from more than 40 countries worldwide.
CBU is committed to the future of Cape Breton Island, innovative economic development and sustainability programs, and Indigenous learning leadership. It offers a comprehensive set of business, science, health, professional, and liberal arts programs on the first energy self-sufficient campus in North America.
As a university dedicated to excellence in teaching and learning, CBU provides students with the advantage of outstanding experiential learning and undergraduate research opportunities in a supportive academic environment. Its programs consistently rank well above the national averages in faculty-student interaction and service-learning in diverse study fields. Cultures and a strong sense of community make Cape Breton University a special place.
Staffers at Cape Breton University's International Student and Study Abroad Centre advises international students when they arrive on campus and helps with any issues that may come up during the year. The advisors help students integrate into the local community and are responsible for orientation, non-academic advising, registration for medical coverage, and coordinating special events.
School Highlights:
Most of CBU's programs have a co-op option to give students access to experiential learning.
Because it is an undergraduate-focused research institution, students get access to research opportunities at a younger age.
CBU's class sizes are small, and students get to form a real relationship with staff and faculty.
You just have to open your School Discovery Tool and send them a connection request. Once the connection is approved by the school, you'll be able to find them in your school search, include them in your beautiful proposals or even send direct applications to the school!

Not yet on Edvisor? Book a demo with us to see how we can take your agency into a new level 🚀