With a curriculum for Grades 10, 11, and 12 students, Canadian College Italy offers an immersive experience for those who want to learn in a robust and historical setting.
The Fast Facts:
Boarding School
Luciano, Italy

https://www.canadiancollegeitaly.com/

Study Areas:
The Arts
Canadian and World Studies
Classical Studies and International Languages
English
French as a Second Language
Guidance and Career Education
Health and Physical Education
Interdisciplinary Studies
Mathematics
Sciences
Social Sciences and Humanities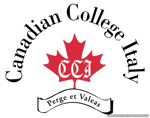 About Canadian College Italy (CCI)

Founded in 1995, CCI has seen over three thousand graduates pass through its home of Lanciano, an ancient-yet-modern city of 45,000 in the Central region of Abruzzo.

Unique to most private schools, CCI provides boarding for its students. With its over 3,300 year history, Lanciano has much to share with them as both boys and girls' residences are located within the historical centre and a quick walk to the main school building.

Throughout history, Lanciano acted as a hub for civilizations. It was a trading centre and fair in the Medieval and Renaissance eras. In the 19th and 20th Centuries (the 1800s and 1900s), it had a part in politics during the Unification - a time of political change in the country - and during World War I and World War II.
The school's mission is to provide a unique environment where students experience a renaissance (rebirth) academically, socially and culturally.

School trips play a role in that experience and the CCI curriculum. Teachers organize and take students on guided tours of major cities, visit art exhibits, galleries, science museums and other historical sites.
School Highlights:
Canadian College Italy is a university-preparatory, co-educational boarding high school located in the central Italian town of Lanciano, in the province of Abruzzo.
The school offers a culturally rich and academically challenging curriculum for students in Grades 10, 11 and 12. It has been operating in Italy since 1995. Students may enroll for one semester or for a full year.
Living together in residences, students form strong bonds and forge long-lasting friendships.
Its robust program has resulted in an excellent reputation with universities and colleges around the world. The average class size is ten students.
CCI is not a travel program; it is a private boarding high-school with one campus.
You just have to open your School Discovery Tool and send them a connection request. Once the connection is approved by the school, you'll be able to find them in your school search, include them in your beautiful proposals or even send direct applications to the school!

Not yet on Edvisor? Book a demo with us to see how we can take your agency into a new level 🚀